If you spend all week at the office in the Alliance, Canton, and Hartville areas dreaming of hitting the track at Quaker City Motorsports Park, then you need a thrilling performance vehicle. Of all the options currently on the market, the team at Montrose Ford Lincoln of Alliance found a lot to love about the Shelby GT350.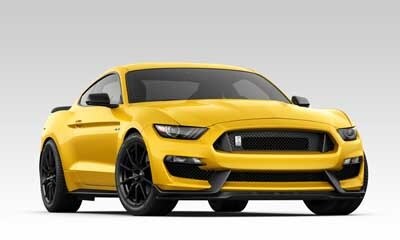 If this sounds like your kind of car, continue reading our 2018 Shelby GT350 car review to learn more about what this fastback has to offer. Find a Ford dealer near you to take a test drive.
Shelby GT350 Powertrain
When it comes to the Shelby GT350, it's all about the performance. Lay your foot on the accelerator and feel the 5.2L Flat-Plane Crank V8 engine roar to life. This naturally aspirated engine greets you with a thrilling 526 horsepower and 429 lb-ft of torque.
Grab ahold of the rounded track-inspired shifter to put your TREMEC® 3160 6-speed manual transmission into drive. Feel free to shift as much as you need to for maximum performance. This fastback can handle the heat, with standard transmission coolers in place to keep things at the right temperatures.
The Shelby GT350 also includes dual exhaust with electronic valves and quad tips to increase airflow through the system, reduce back pressure, and keep performance levels elevated.
Handling and Driving Dynamics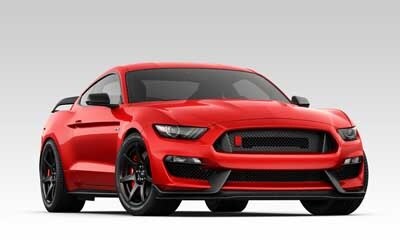 The Ford Shelby GT350 comes standard with rear-wheel drive (RWD) to help you whip around corners without losing your grip. A seamless experience is built into the design, with a lightweight rear spoiler creating downforce to keep your speed stable and propel you forward.
You'll get a smooth ride with the MagneRide® Damping System, which adjusts the suspension one thousand times per second to absorb shock and create a smooth and adaptive ride. Once you've got your driving dynamics set to the way you like them, lock them in with the Integrated Driver Control System (IDC), so you always have the kind of ride you need.
Mustang Track Apps®
Of course, if there's ever any question about just how fast this car can go, simply check the TrackApps® in your 4.2-inch control panel. There are three you can use to gauge your performance and show what you can do.
If you want to put on a show, you can use the Line Lock feature to heat up the tires and create some smoke. You'll have a digital view of the spectacle from your position in the driver's seat, so you don't have to miss out.
To track your time for each lap, use the Lap Timer. This app allows you to record lap time and average speed for three different tracks and store up to 100 sessions to review and compare later. Finally, you can get a read on your car's acceleration with the Acceleration Timer. Launch your Shelby GT350 and see just how quickly you can travel ¼ miles and how many g-forces you pull along the way.
Get Behind the Wheel of the Shelby GT350
If you crave the thrill of taking the wheel of the 2018 Shelby GT350, come to Montrose Ford Lincoln of Alliance to perform a car review of your own. We'll let you give it a once-over and even take it out onto the Canton, Alliance, and Hartville area roadways. Contact us to schedule your test drive today!