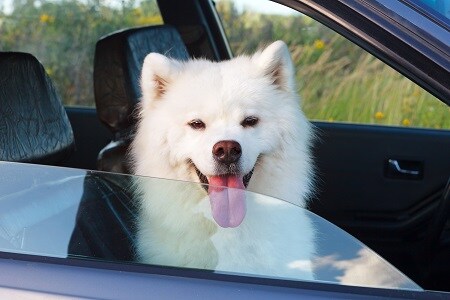 The team at Montrose Ford Lincoln of Alliance wants to take a minute to remind drivers in the Alliance, Canton, Hartville, and surrounding areas to practice summer pet safety and don't leave your dog in a hot car.
If you're like the members of our team, you probably consider your 4-legged friend as a part of the family and would never purposely do anything to put your pup in danger. Unfortunately, many people don't know just how dangerous it can be to leave your dog in a hot car-even for a minute-as you run into Sheetz to grab a cup of iced coffee.
Don't Leave Your Dog in a Hot Car
What many people don't realize is that your car can heat up quickly, even if it's parked under a tree with the windows rolled down. In fact, in just the first 10 minutes of sitting in the parking lot, your car's temperature can rise 20 degrees Fahrenheit above the outside temperature.
Even on a comfortable 75-degree day, your car's temperature will be nearing 100 degrees in a matter of minutes. Dogs begin to feel uncomfortable at an exterior temperature of 83 degrees Fahrenheit, at which point they're at risk for heat stroke.
To avoid this, take your dog home first before running errands after a day at the Veteran's Park dog park.
Dogs and Heat Stroke
Heat stroke can set in very quickly if a dog's interior temperature rises above 106 degrees Fahrenheit-that's just four to five degrees higher than their normal body temperature, which sits around 101-102 degrees.
While this is life-threatening for all dogs, short-nosed breeds like pugs, spaniels, and Shih tzus are especially susceptible. If your dog is experiencing heat stroke, he may show the following symptoms:
Drooling
Vomiting
Weakness
Collapse
Seizures
If you notice any of these behaviors in your dog, move him somewhere cool immediately. Sprinkle him with cool water and put cold compresses under his armpits and on the back of his neck. Do not submerge him in cold water as that can result in shock.
Call your vet or go to the emergency vet immediately.
If You See a Dog in a Hot Car
While we don't expect that any local dog dads and moms would ever intentionally put their pup in a dangerous situation, many people don't realize how hot a car can get. Even more people underestimate how long it's going to take to run a quick errand.
So, at some point, you may see a dog left in hot car while out doing some shopping of your own. If you do, there are a few steps you can follow to help:
Note the car's make, model, and license plate number
Take a picture of the scene
Ask nearby businesses to make an emergency announcement
Call the police or 9-1-1 and wait by the car
In Ohio, there's also a law protecting civilians who enter someone's car to rescue a pet or child that's in grave danger. Call and wait for the police first, but keep an eye on the dog for signs of heat stroke and distress while you wait.
Practice Summer Pet Safety with Us
Thank you for taking the time to practice summer pet safety and making sure you don't leave your dog in a hot car while out and about in Canton, Hartville, and Alliance.
If you have any questions, feel free to reach out to the team at Montrose Ford Lincoln of Alliance. Contact us today to learn more!